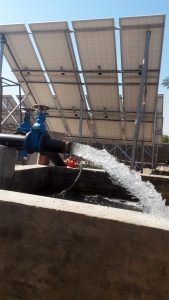 Pakistan has an agrarian economy based heavily upon agriculture and an overwhelming majority of it's population, i.e. 70%, is dependent, directly or indirectly, on agriculture. Pakistani farmers produce many crops but chief amongst them being cotton, rice, sugarcane and wheat. Pakistan ranks amongst the leading producers / suppliers in the world of Cotton (4th largest), Milk (5th), Rice (4th), Apricot (6th), Chickpeas (3rd), Date Palm (5th), Sugarcane (5th), Mango (4th), Onion (7th), Citrus fruit (Mandarin oranges & Kinnow) (6th) and Wheat (7th).There are many reasons that make Solar Energy very attractive for use in agriculture but the best one is that one does not really have to be up & about very early in the morning in order to grab the sunshine. If the sun is shining you are making money – any God has blessed Pakistan with an abundance of sunshine unlike Europe which is almost always covered by clouds.
Biotech Fuels realizes and understands agricultural needs very well. Our solutions are commercially viable with elaborate after sales support. We follow the Health, Safety & Environment standards (HSE) strictly while implementing / deploying our solar systems. We can supply a variety of solar tubewell and solar energy for agriculture.
In those rural areas which have no power supply, solar tubewell can ensure a reliable supply of water. These systems are self-operational and they can work maintenance-free or with very low maintenance. These systems can be installed in remote areas for irrigation purposes and other water needs. Biotech Fuels has rich experience in designing, installing and maintaining Solar PV systems.
Biotech Fuels can provide the following solutions for agriculture purposes
Solar tubewell for irrigation
Solar powered pump for community water supply
Solar powered system for farm houses
Availing agricultural benefits from the solar energy
We have learnt from our experience that farmers are some of the best long-term planners in field of business. Resultantly, most people linked to agriculture are also more concerned with solar-energy's the long-term financial benefits. On farm-house building, overhangs, barns, sheds etc, there is ample space available on the roofs and grounds.
Farmers can cut down their operating costs to a large extent by utilizing solar energy and solar energy in agriculture. Farmers and cattle-ranchers can reduce their operating expenses against the astronomical rise of electricity / energy rates. The most attractive benefit of utilizing solar-energy is that the solar system will typically pay off it's incurred cost within a short amount of time and subsequently electricity thus obtained will be free for decades to come.
The Govt of Pakistan also gives incentive to convert to solar-energy by providing tax relief and other benefits. This can enhance the annual farm revenue. Any device or equipment that runs on the electricity supplied by the national grid will also run perfectly on electricity generated by solar-power systems.
When considering as solar energy in agriculture purposes, we first have to understand the nature of water requirement, the type of irrigation used and the level / depth of the underground water. These factors will help determine the type of pump required to pull up the water, the capacities of the controller as well as the solar module.
How agriculture benefits from solar energy
Underwater water can be pumped up to be used for irrigation. How deep the water is will help us determine whether to use surface pumps or submersible pumps. Solar Power can be greatly utilized for various agricultural purposes. Solar power can be used to draw water from a distant source and then route it to a desired site / location. Solar power increases our options for irrigation and drastically reduces our reliance on natural sources like rain or river-water. Solar power also reduces our dependence on electricity from the national grid. Equipment to generate solar power can be installed / set up in agriculture fields to power the pumps.